Please note that the use of coupons is one-time and for personal use only, we offer couples and group pricing (up to 5 people) at a discounted price.
The Ultimate Tel Aviv Guide
Discover Tel Aviv through local eyes
Hey, we are Nofar and Sahar, two Tel Avivians in heart and soul, as well as experienced travel bloggers. We joined together to bring you the ideal guide to Tel Aviv.
Tel Aviv is one of the most fascinating and interesting cities in the world. With the help of our guide, you will be able to experience it in the best way possible and without wasting precious time planning your visit, as we have already done all that work for you.
We have compiled recommendations for everything we love most in Tel Aviv - that is, all the recommendations in the guide have been tried and experienced by us throughout the years we've spent in the city, another thing that distinguishes our guide from others.
We have also collected a wide range of coupons and discounts for the recommended attractions and restaurants found in the guide. Thus, having invested in purchasing the guide, your investment will be fully returned and even turn a profit, thanks to the multiple discounts.
What does our guide include?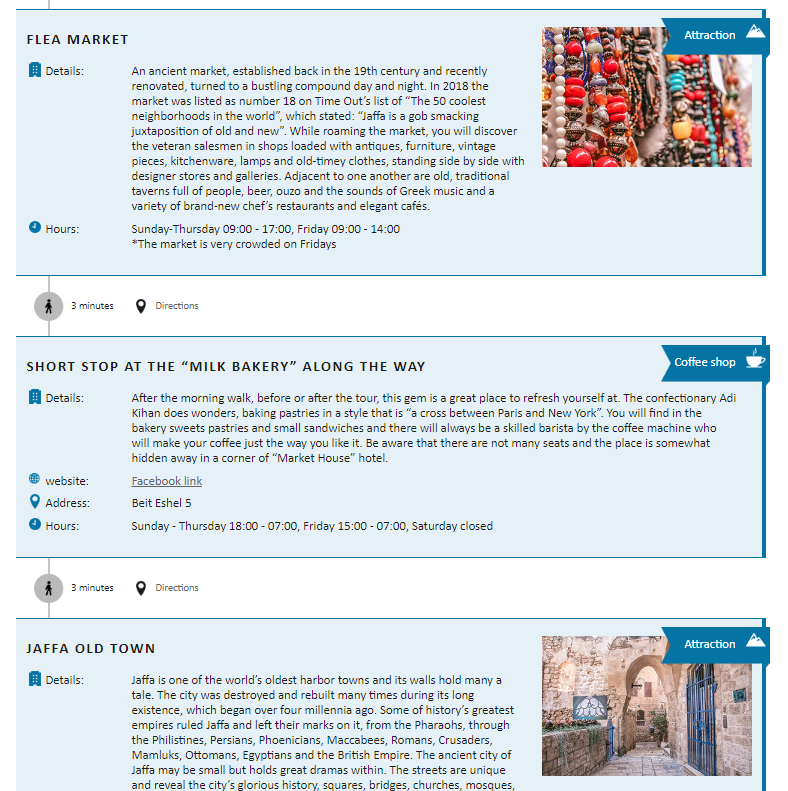 A comprehensive five-day itinerary in Tel Aviv and Jaffa, including markets, restaurants, entertainment venues, tours, attractions and selected points of interest. The tour routes are divided into days and regions and will help you get to know the city, experience it and enjoy everything it has to offer, without having to struggle and waste valuable time organizing your trip.
The route will be sent to you in two versions: one as a PDF file and the other as a link to a responsive Internet page (mobile-optimized) which includes maps from one point to the next. This Internet version will allow you to easily follow the route we've created for you in real time.
Interactive map of the recommended places in Tel Aviv-Yafo, containing different layers: bars, cafes, restaurants, gourmet restaurants, street food, beaches, markets, culture and accommodation.
Useful information about the city, detailing the Jewish holidays exclusive to Israel, special events held in Tel Aviv-Jaffa, shopping in the city, interesting tours, a review of the recommended beaches, recommended sleeping places and more.

Tips for reducing costs in the city, including a whole section with all of the city's best happy hours, so you may drink cheaply and with style.
Explanation of the public transport in the city, ways to get from the airport to the city and back, mobility during the weekend (when public transportation is not active) and tips to help you move around the city in a simple and cost effective way.
Discount coupons and treats, our guide includes discount coupons for all the tours we recommended, so our coupons will save you a lot of money, with the overall cost of the guide being much cheaper than what the coupons you'll receive with a guide will save you. And as for treats? Because everyone likes gifts, the recommended cafes and bars await you with benefits to satiate your thirst and bring you joy, such as: a free, high-quality chocolate chip cookie, a free chaser at the bar, a free cup of coffee at a homey café and more.
Please note: the use of a coupon is one-time only and is reserved for those who purchased the guide, it is non-transferable and requires presenting your ID.
Guide cost:
Single 12$
Double 16$
Group / family 25$
* Choose the package during the payment process
* If you have a coupon, you need to enter it in the coupon box.
Q: If you're travel bloggers, then all the information must be available for free on your blog, why should I buy the guide?
A: Yes, some of the information exists on our blogs. But!! Our guide includes a lot more: tour routes in Tel Aviv - Jaffa, organized by days and regions and including the most recommended locations. The routes are also available in an online format, which you can bring up on your mobile phone at any time.
In addition, you will receive a high-quality interactive map, containing information and further recommendations, that you can use at any moment and find out, according to your need, what is closest to your location (gallery, restaurant, cafe, beach etc.). You'll receive tips on how to save money in the city, as well as coupons and bonuses that aren't found in the blogs. Joining a single recommended tour or sitting down at a café and enjoying a free cup of coffee will already be enough to cover the guide's price.
Q: Why should I buy your guide if today all the information exists on the Internet?
A: It's true that today there is a lot of information on the Internet, but that very fact can create confusion and take a lot of research time. We have invested a great deal of time into building the guide and using our experience and contacts (both of us have lived in Tel Aviv for many years) to create a comprehensive but concise guide that saves you precious time searching for all the information and makes it easy to plan your days and choose the best places among the many options available.
Q: Can I change the route you have proposed?
A: Of course! We planned each day's tracks based on what we see as most interesting and experiential, and according to the geographical proximity of the points of interest. In addition to these, on the attached map, which is part of our guide, there are many more recommendations that do not appear in the routes. This way we give you all the information needed to adjust, add and change the course to match your tastes and desires. The route we built is suitable for a five-day visit to Tel Aviv-Jaffa. Depending on the length of your stay in the city, you may choose your favorite days or add days using the additional recommendations on the map.
Q: After I bought the manual, can I let my friends use my coupons?
A: No, the coupons and the guide itself are for personal use only. The manual is non-transferable and doing so would violate copyrights and be subject to legal claims. In addition, the use of coupons is conditioned upon the presentation of an ID on location and the presentation of the email that you received when purchasing the guide, which contains your full name.
We know that it sounds a little harsh, but we have worked on this guide for a long time and invested a great deal of effort and resources into creating the perfect guide for you. We also made sure to price it for a nominal price that anyone can afford. Therefore, it seems fair to us that the guide and coupons will be for personal use.
If you are a family/group traveling together, see the answer to the next question.

Q: We are a couple/family/group of friends traveling together and we all want to receive discount coupons and treats. what can be done?
A: We offer double/family/group pricing (up to 5 people) at a discount. This way, all travelers can use the guide and receive discounts and treats. Simply, at the time of payment, choose the appropriate option for you and the email you will receive will include all members of the family/group.
About the guide's authors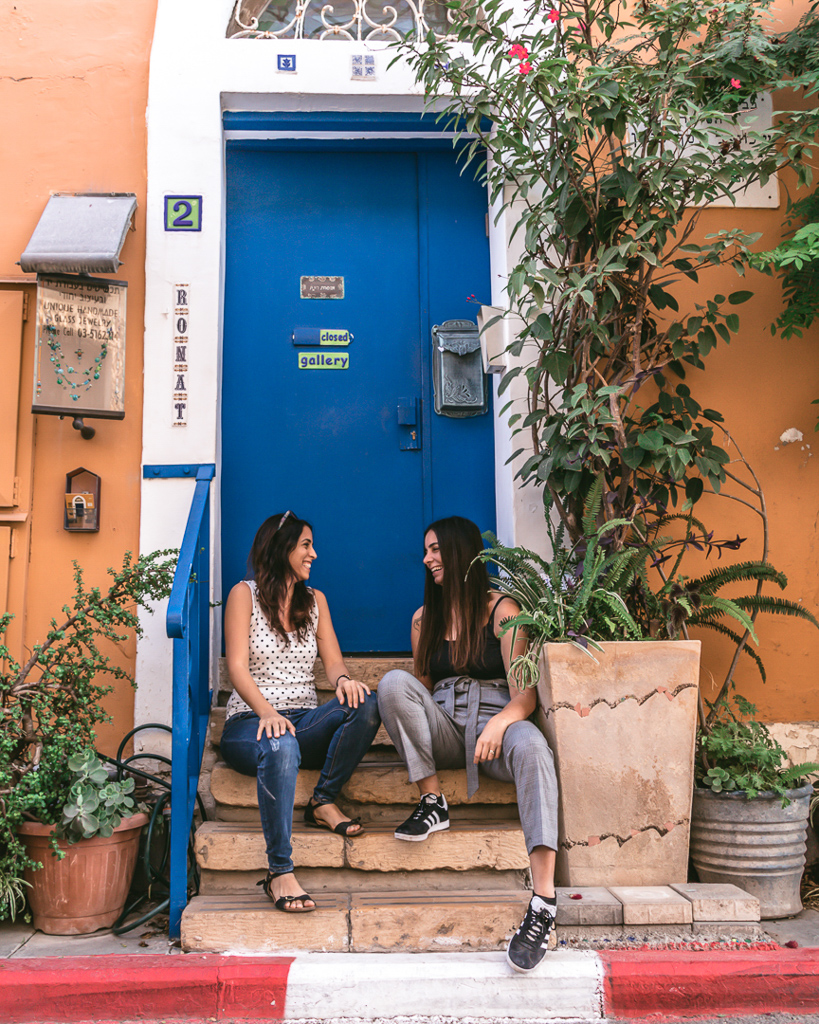 Nofar Ronen, owner of the "Traveling outside the box" blog, considered one of Israel's leading blogs in its field. Nofar and her husband, Roman, decided to start a blog while on a seven-month trip to the east, during which time they decided life is too short to be spent on a job and a mortgage, and vowed to make a meaningful change in their life. Nofar works on the blog full-time and together they travel abroad at least once a month and share the good experiences they've had on their blog, combining the good life with local experience.
Sahar Karat, owner of the travel blog "YOLO Blog" (YOLO = You only live once), which she writes with her husband, Roi. They both love traveling Israel and around the world and do their online research thoroughly before every destination. Having already put in the effort – why not share it for everyone's benefit? That's essentially how their blog began, and now they share their recommendations and tips about the places they've been to. Additionally, Sahar is a photographer and every photo on their blog was taken by her.
Nofar and Sahar have lived in Tel Aviv for many years and decided for this guide to be where they share the immense knowledge they've gathered about the city.
You can contact us at info@tlvcityguide.com
נוצר באמצעות מערכת רב דף מבית רב מסר